(Family Features) Everyone benefits when older adults remain engaged, independent and included. Instead of letting age define their circumstances, older Americans are embracing change, pushing boundaries and transforming their communities through creativity, commitment and service.
As a first stop for anyone looking to explore volunteer opportunities, AmeriCorps and AmeriCorps Seniors connect individuals and organizations through service and volunteering. AmeriCorps Seniors matches Americans 55-plus with opportunities to improve their communities through the contribution of time, passion, skills and experience.
"AmeriCorps Seniors is tailor-made for those aged 55 and older," said Atalaya Sergi, director, AmeriCorps Seniors. "It provides a space for older adults to take charge of their 'second act' and use their time in valuable and impactful ways. All of our volunteers share a goal of making a difference in their communities, and many see their involvement as a chance to make friends and form meaningful connections."
More than 140,000 Americans are matched with volunteer opportunities each year through three programs: RSVP, the Foster Grandparent Program and the Senior Companion Program.
Consider these ways older adults can get involved in their communities.
Respond to the Needs of Your Community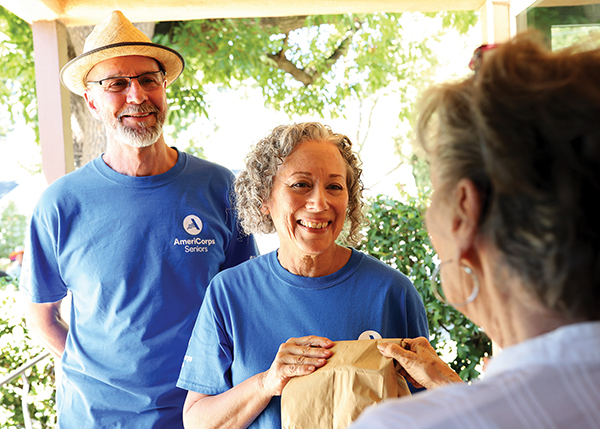 With more than 115,000 volunteers, RSVP is the largest of the programs. The program partners with national, state and local organizations to offer volunteers a wide range of service opportunities, from building houses to delivering food.
"All the people you meet when you're a volunteer tell you their stories and experiences," said Srini Srinivas, a volunteer serving with the RSVP program. "You find that very rewarding and it enriches your life. Doing this service is a way of paying it forward."
Serve as Mentors
For older adults interested in working with children, the Foster Grandparent Program pairs volunteers with local schools and other programs focused on children, caring for and working with classes, groups or individual students.
"My motto is, 'There is never a never, you can always accomplish something.' I'm here to help the kids learn, be there for them and teach them as much as I can," said volunteer Priscilla Tsethlikai, who has been involved with the program since 2016. "They're teaching me, and at the same time, I'm teaching them."
Provide a Helping Hand to Other Older Adults
Fostering relationships with other older adults is also a rewarding, and needed, option. Volunteers serving with the Senior Companion Program give about 20 hours each week and spend time with older adults in need of companionship or help with day-to-day tasks such as grocery shopping, getting to appointments or paying bills.
 "Volunteering has changed me, it keeps me grounded," volunteer Carmen Swanson said. "When you help others and do for others, you enrich your life. My favorite part is being available and of service to them. Whatever their desire is, whatever they'd like to achieve – if I can execute the task, follow it through and accomplish it then it makes my day."
While it may mean different things to different people, the idea of choosing our own paths as we age provides one overarching sentiment: growing older can and should be empowering.
"We know there are stereotypes surrounding older adults, but we want people to shift their thinking," Sergi said. "See the ways older adults continue to contribute to your life and communities, appreciate their wisdom and lived experiences, and join them in new endeavors. When the older adults in our communities are engaged, valued and genuinely included, we all benefit."
For more information, and to find volunteer opportunities near you, visit
AmeriCorps.gov/YourMoment
.