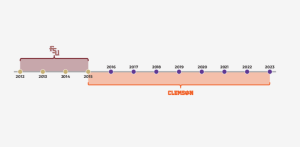 When Clemson hosts No. 4 Florida State this weekend, history will be made in this do-or-die matchup for the Tigers.
The two ACC teams first played one another on Nov. 7, 1970. Hosted in Tallahassee, Florida, at Florida State's home turf, the Seminoles took the win in a hefty 38-13 score against the Tigers.
Since 1970, Florida State has led the series with a 20-15 record against Clemson. However, Clemson has won the last seven games against the Seminoles, and with a win on Saturday, that streak would extend to eight straight wins. Most recently, Clemson defeated Florida State 34-28 at Doak Campbell Stadium last October.
Both programs have won three national championships, with Clemson's most recent being in 2018 and Florida State's being the 2013 title. The two teams are seen as two of the biggest driving forces of the ACC, as Clemson holds 21 ACC championship titles compared to Florida State's 18. The Tigers won last year's ACC title against North Carolina. Meanwhile, the Seminoles have not won the conference since 2014.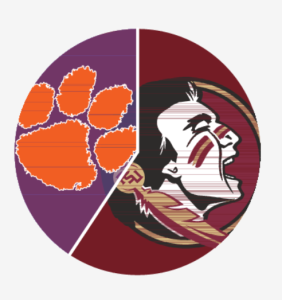 One of the most prominent roots of this rivalry is the Bowden Bowl. Bobby Bowden coached Florida State for 34 years. At that time, his son Tommy Bowden was hired to lead Clemson's program in 1999.
For the next eight years, each game between the two teams was referred to as "the Bowden Bowl" as a father-son rivalry. Bobby took the overall win, taking five of the nine games against Tommy. Tommy Bowden was inevitably replaced during the 2008 season by Dabo Swinney, Clemson's current head coach.
As for this week's game, here's what's at stake:
Florida State risks losing to an unranked opponent: With the Tigers being upset by then-unranked Duke in Week 1, they could seek vengeance and redeem themselves to climb back into the polls. Playing against the fourth-ranked team in the nation will be challenging, but the Tigers have the home-field advantage and the history of winning behind them.
Clemson could break its Florida State win streak: While the Tigers currently sport a 2-1 record, they are 0-1 against ACC opponents. The Seminoles will try to keep Clemson winless in ACC games when the two teams kick off at noon on Saturday.
Clemson's reputation as an ACC leader: There is still a whole lot of season left after Week 3 of college football. If the Tigers lost, it would likely prevent any chance of a College Football Playoff appearance. As of Tuesday, Florida State is favored by 2.5 points and predicted to take the win.
There is no doubt that Saturday's game at Memorial Stadium will be a memorable one. Clemson has the opportunity to upset a top-ranked team, and recent history is on the Tigers' side.