(StatePoint) With travel returning to normal, there's a renewed interest in seeing the world but you don't have to go far to bring the beautiful details of faraway destinations into your home's spaces.
With this in mind, FrogTape brand painter's tape and celebrity interior designer Taniya Nayak have identified the top design trends for 2023, all with an eye to how travel can inspire home décor.
1. Redrock Renewal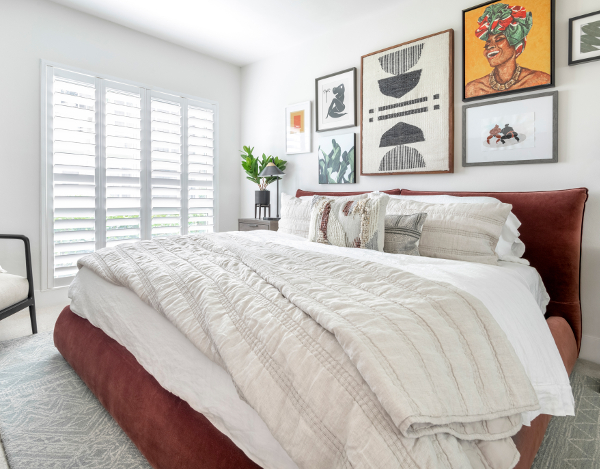 Breathe fresh air and renewed energy into your space with "Redrock Renewal," which incorporates both nature and spirit through earthy tones paired with bold influences of turquoise, clay and olive. Embrace a clean, light slate layered with simple textures to create a room that is calm, joyful, serene and spiritual. This trend can make a big impact in any space through small details like textured pillows, cozy blankets and clay vases.
2. Bohemian Bazaar


The "Bohemian Bazaar" style is about creating an environment that emboldens everyone in it to live a vibrant, authentic life. To achieve this look, add a pop of color where it's least expected, like mixing chairs in different shades of fabric around the table or adding bright, bold hues to an otherwise small, dark hallway. Inspired by the people, culture and food of destinations like Morocco, India and Africa, this trend merges the details of handcrafted goods with soulful experiences by encouraging the mixing of patterns and colors.
3. Nordic Nature


"Nordic Nature" encourages a pure, clean and fresh space by bringing elements of the outdoors into your home. The palette is reflective of a Scandinavian aesthetic, consisting of concrete, wood and crisp white walls to create a space with natural, modern and organic appeal. Look for unique opportunities to make nature-inspired but daring statements that balance the rustic feel with an uncluttered and contemporary vibe.
Apply a subtle concrete layer to your walls for added interest, movement and texture. Before you begin, tape the edges with Nayak's preferred painter's tape, FrogTape, to keep lines sharp and neat.
4. Midtown Modern


It's easy to get caught up in the hustle and excitement of a fast-paced, on-the-go lifestyle, but the "Midtown Modern" movement is about turning your place into a space to pause and savor every moment of each day. Implement saturated hues like black or navy to create an urban, contemporary vibe. Elevate the look with plush fabrics like velvet, wool and satin. Complete the room by adding a special sparkle, with statement pieces that have bright, brass or metal finishes.
"If your hardware is losing its luster, remove it and spray paint it with a new finish for a fresh new look," recommends Nayak.
Interested in refreshing your home's interior with the latest trends? Visit https://www.frogtape.com/inspiration/2023-trends for more information and ideas.
Let the sights and experiences of the world not only inspire your adventures, but also your home.