(NewsUSA)

– With Easter just around the corner, we bring your attention to the work of a Chinese scholar and philanthropist who has combed through 3,000 years of philosophical world history to reveal the truth of Jesus's message and the Human Calling he brought to all humankind. 
Daofeng He's illuminating new book, THE HUMAN CALLING: Three Thousand Years of Eastern and Western Philosophical History (Morgan James Faith), is a journey into the past to help us navigate into the future.
Never before has this sort of study included an in-depth look into the development of both Eastern and Western philosophy and examined how the shifting currents of time, including social, economic, political and religious beliefs, have brought us to the present day.
We are living in an era where predatory monopolies are intensified, governments are over-expanded, and personal agency is weakened. Global social turmoil is at an all-time high. From the Occupy Movement, Black Lives Matter and the "Great Resignation" in the United States to the "Laying Flat" mentality in China, we have found that in this global, technocratic, money worshipping, and ultra-pragmatic system, more and more people are losing faith in their value as an individual.
Politicians and corporations around the world have hijacked the public forum and turned public media into a tool to enhance their interests. How can people see the machinations in this enormous, complex international system and realize their value as individuals and members of communities? How can they regain their autonomy? 
He believes that we must understand the origins and development of the competing philosophies, beliefs, and ideologies between the East and the West to truly understand the roots of conflicts and turbulence in the world today. This will allow us to reconstruct the sacred origin of the modern universal value system and help people rediscover the dignity and public grace of individual life.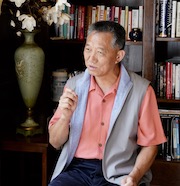 A survivor of the violence and famine of Mao Zedong's totalitarian Cultural Revolution, the dream-crushing violence at Tiananmen Square, and the rise of China's market economy, He grew up in an atheist society devoid of spirituality. After years as an economist, entrepreneur and NGO director, He retired to Maryland in 2015 with some heavy questions on his mind: "What kind of life is really worth living? Is there any other option for human life aside from the modern grind of forced busyness, manipulation by online advertisements, and hatred and violence generated and directed by those who form public opinion? Can we find a way to make human life return to its former graceful and dignified pace, make it encourage inquiring, independent thinking, peaceful communication, mutual respect and philosophical exchange, and connection to the divine source of 'the human calling'?" 
To find the answers, He traced the growing dysfunction of humankind's alienation by examining the rise and fall of the world's great civilizations and their religious, philosophical, economic and political histories. His intellectual journey led him to a startling conclusion—the calling of Christianity. "My new faith shattered my unreasonable expectation to find absolute truth in the Eastern sages who preached that morality was relative. It also cut off the path to the materialistic gods of the new, moneyed East." 
THE HUMAN CALLING is the book we need right now to illuminate our shared human history and provide answers as to how we can start creating a better world. 
Visit THE HUMAN CALLING website at https://www.thehumancalling.com or purchase the book HERE.
(revised April 12. 2023)