(NewsUSA)

– Painting bridges. Teaching kids to fish. Shining up an airplane museum. The 120 volunteer projects that took place across 19 states during Williams Volunteer Week this April were as varied as the employees who initiated them.
Williams is an energy infrastructure company that provides one third of the nation's natural gas used every day to generate electricity and power America. From the Gulf Coast to the Northeast and all the way to the Pacific Northwest, more than 1,100 Williams employees fanned out in communities where they live and work to lend a hand on projects that mattered most to them.
"It's always a pleasure to serve and I think more and more people at Williams are getting that opportunity and getting that mindset to really make a footprint in the community," said employee Carlos Hopkins, a lead pipeline controller, who spent a morning painting a handrail across a bridge in Tulsa, Okla. along with about 25 other employees.
Each project was identified and led by individual employees. In Salt Lake City, Utah, dozens of employees packaged 1,200 bags of healthy snacks for students at Parkside and Mountain View elementary schools.
"Williams loves to connect with the communities where we live and work," said Candyce Fly Lee, vice president and general manager of the company's operations in the Rocky Mountains. "This also was a great opportunity for our employees to get together and bond in a different way outside of work."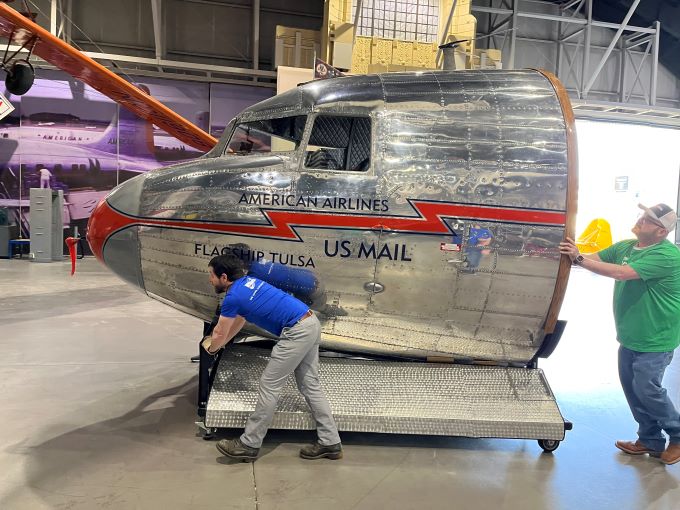 Projects ranged from picking up trash, volunteering at schools, spending time with veterans and swinging hammers with Habitat for Humanity.
"When people like our good friends at Williams invest their energy and time to build with Habitat, they help build much more than a house—Habitat volunteers help families build brighter futures and help whole communities build strength and stability that lasts," said Beth Lechner, CEO of Habitat for Humanity East Central Ohio.
At an airplane museum in Tulsa, Williams employees moved planes and other exhibits to ready for the nonprofit's annual fundraising event. Mike Mansur, the employee who organized the project, said he was thrilled to volunteer at the museum, where he was inspired as a teen to enter the field of aviation.
"It's fabulous to have Williams employees here to prepare the space," said museum executive director Tonya Blansett. "We are a small staff with limited resources. Without these volunteers, it would be almost an impossible task to complete this work."
Williams Volunteer Week, which coincides with National Volunteer Week, builds on the company's long tradition of being a good neighbor through employee volunteerism and financial support. Last year, employees recorded more than 20,000 volunteer hours, serving as advocates, youth mentors, coaches, nonprofit board members and volunteer firefighters.
"As a company, we relish these opportunities to go out into the communities where we operate and demonstrate how much we can accomplish when we work together," said Williams President and CEO Alan Armstrong. "But perhaps what makes me most proud is that these Volunteer Week activities are projects that our employees have identified as important and have volunteered to lead."
To learn more about Williams and its tradition of community giving, visit Williams.com.