(Family Features) Many families crave those memorable moments together at the dinner table, and in spite of frenetic schedules and seemingly never-ending to-do lists, there are easy ways to make those meals a reality. Take the challenge out of bringing everyone together with a simple yet special recipe made for sharing.
This flavorful French Onion Baked Chicken can become a family favorite and weekly menu staple, and with 6-8 servings, it's perfect for seconds or saving to reheat for weekday lunches. Sweet, jammy, caramelized onions are placed atop juicy chicken breasts and baked to tender deliciousness for an aroma that brings loved ones running to grab a plate.
Starring TX1015 Sweet Onions, this tasty meal relies on their mild sweetness, appetizing caramelization and versatility without the bite compared to other onion varieties. Available from early-spring through mid-summer, the varying climates of Texas allow for a range of growing seasons: March-June in deep south areas and May-July in the south-central region.
Take advantage of your opportunity to add sweet flavor to family meals this year by finding more recipe ideas at tx1015.com.
Watch video to see how to make this recipe!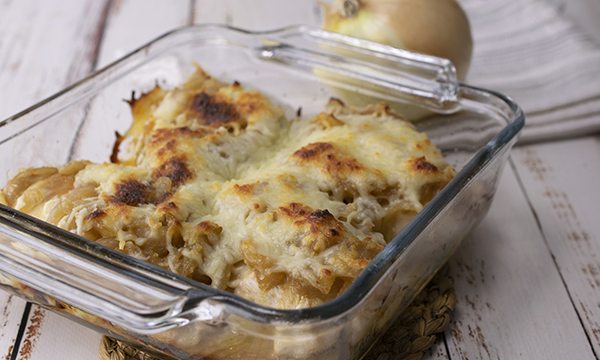 French Onion Baked Chicken
Recipe courtesy of South Texas Onions
Servings: 6-8
1          tablespoon olive oil
4          boneless, skinless chicken breasts
Caramelized Onions:
2          tablespoons butter
1          tablespoon olive oil
3          medium sweet onions, sliced
1/2       teaspoon salt
2          sprigs fresh thyme
3          garlic cloves, minced
1          tablespoon balsamic vinegar
1          tablespoon Worcestershire
2/3       cup beef broth
2          teaspoons Dijon mustard
1          cup shredded mozzarella, gruyere or fontina cheese
Preheat oven to 400 F. In large pan over medium-high heat, heat oil. Sear chicken breasts 2-3 minutes on each side. Remove from pan.
To make caramelized onions: In separate pan over medium-high heat, heat butter and olive oil. Once butter is melted and bubbling, add onions. Let sit 5 minutes.
Turn heat to low and cover onions. Cook 20 minutes, stirring halfway through.
Stir in salt, fresh thyme and garlic; cover onions. Cook 10 minutes.
Stir in balsamic vinegar, Worcestershire, beef broth and Dijon mustard. Cover and cook 10-15 minutes, or until onions are brown and jammy. Stir onions every 10 minutes.
Place chicken breasts in greased baking dish. Top with onions then cheese. Place any additional onions in bottom of dish.
Bake 30-35 minutes, or until chicken reaches internal temperature of 165 F.