(BPT) – Just in time for warmer weather, step outside and imagine your ideal outdoor space. Create an area that complements your lifestyle and encourages you to spend more time outdoors. Now is the perfect opportunity to make your dreams a reality — all you need is the right design plan for you.
"Interest in outdoor living is at an all-time high," says Joe Raboine, vice president of design at Belgard Outdoor Living. "The ideal outdoor space means different things to different people, so it's important for homeowners and contractors to work hand in hand to create and build their vision."
Here are tips to help you imagine your space.
1. Focus on functionality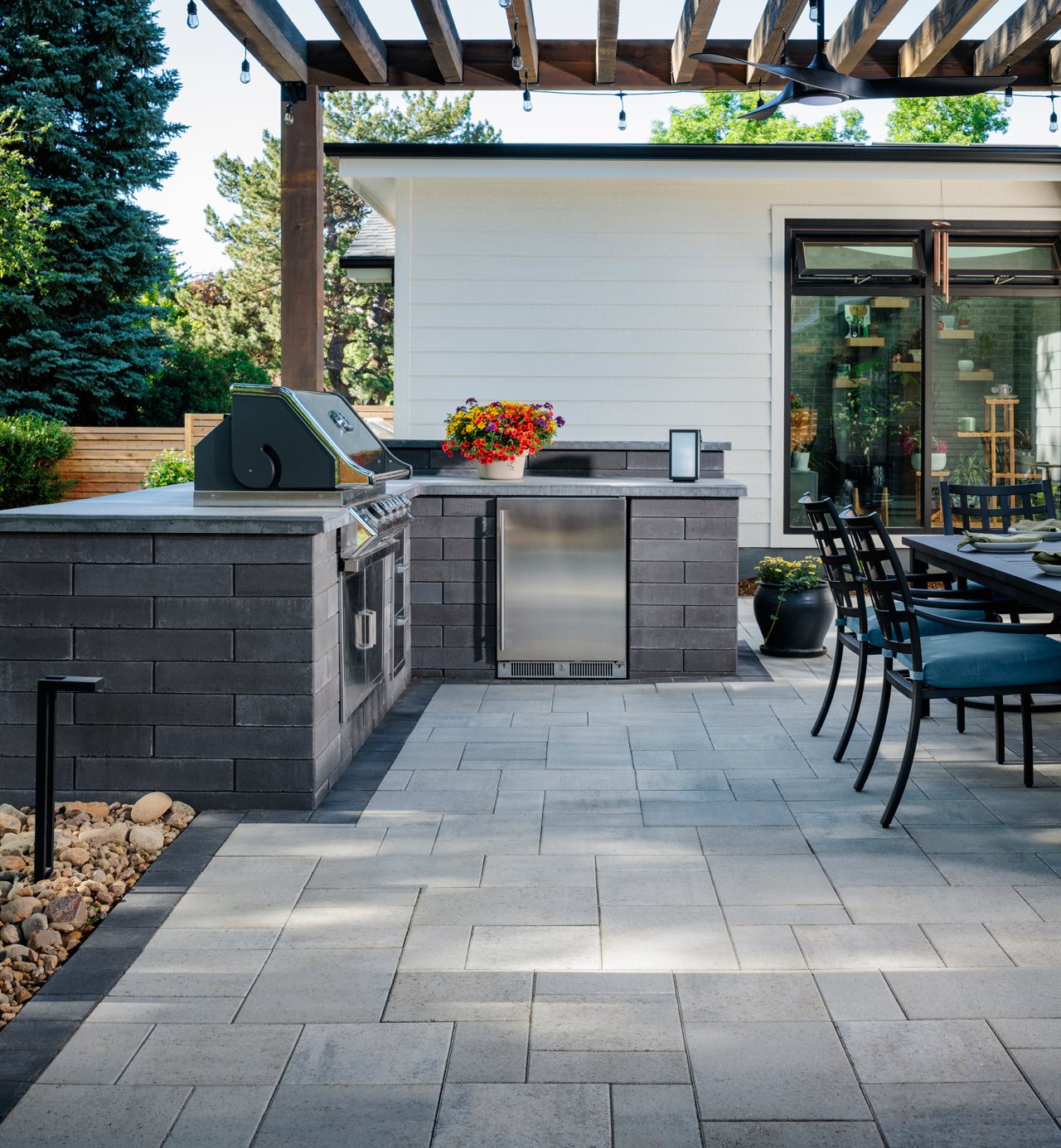 Imagine how you want to use your outdoor area. Do you need shade during the day when you're entertaining or reading outside? Install a shade sail or pergola with curtains to block out the sun. Dream of hosting large gatherings? Add built-in seating that also functions as storage, or planters to double as seats. Want to use your space at night? Think about lighting and insect deterrent. Imagine creating culinary delights? Consider equipment you want — a grill, pizza oven or full kitchen setup. To separate areas for multiple uses, consider modular systems arranged for ideal functionality.
Need help envisioning your new, improved patio? Visit Rooms.Belgard.com to start designing your dream yard based on your needs, style and vision, or browse their gallery of completed rooms.
"Belgard Rooms offers a new approach to outdoor living, focusing on templated designs and how shape, color and texture work together to make the design process easier," says Raboine. "Once you narrow your selection, not only will the contractor understand your style and budget, but they can choose to flip the room to our Belgard Design Studio to have a semi-custom plan made tailored to their needs."
2. Use your outdoor space year-round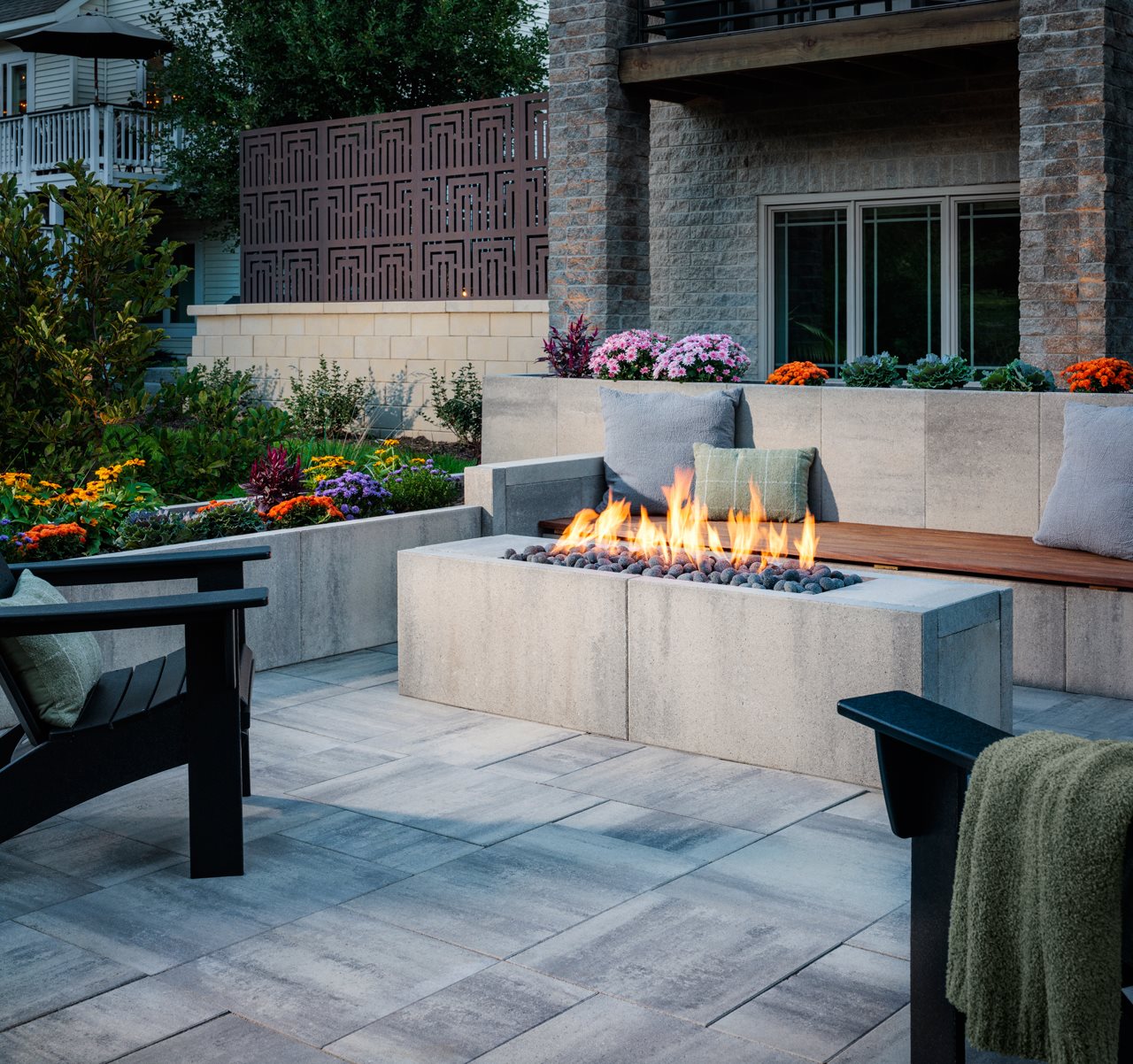 Maximize your patio by extending the time you can enjoy being outdoors. Consider adding a fire pit, since everyone loves sitting around a fire to roast marshmallows, share stories and spend time with family and friends. Pergolas can add warmth when coupled with sturdy outdoor drapes.
"Don't let the end of summer keep you indoors," Raboine adds. "A thoughtful design can increase the use of your patio even during cooler months."
3. Spruce up your design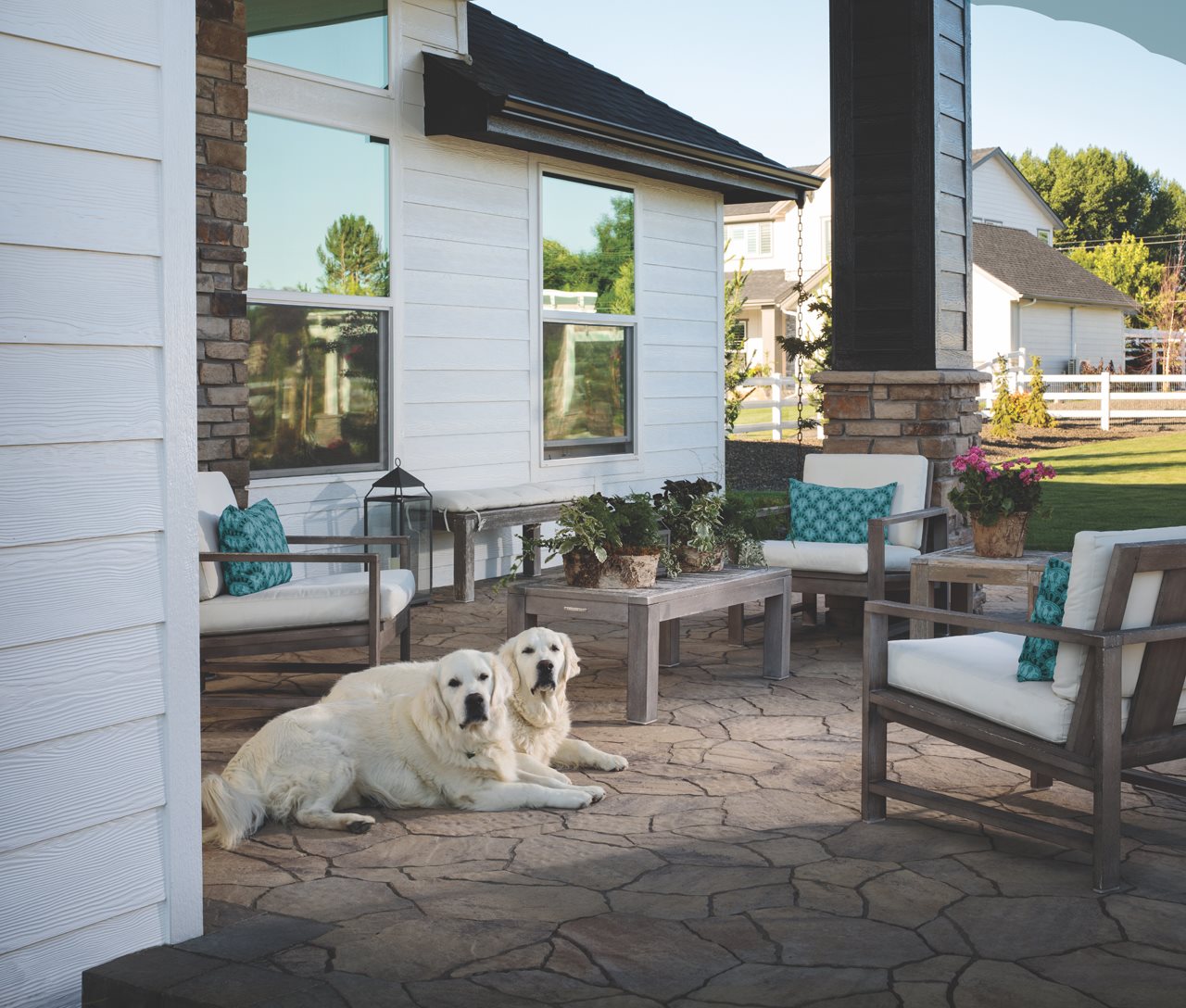 Making outdoor areas as attractive as they are functional is easier than you think, especially if you play with colors and patterns. Replace older pieces of furniture and invest in an outdoor sectional, love seat or chairs designed to handle the elements. Dress your outdoor room as you would an indoor room, giving it a cozy vibe with pillows, greenery and string lights. Get creative with outdoor flooring by creating visually pleasing patterns, color and textured surfaces with patio pavers.
4. Try mixed materials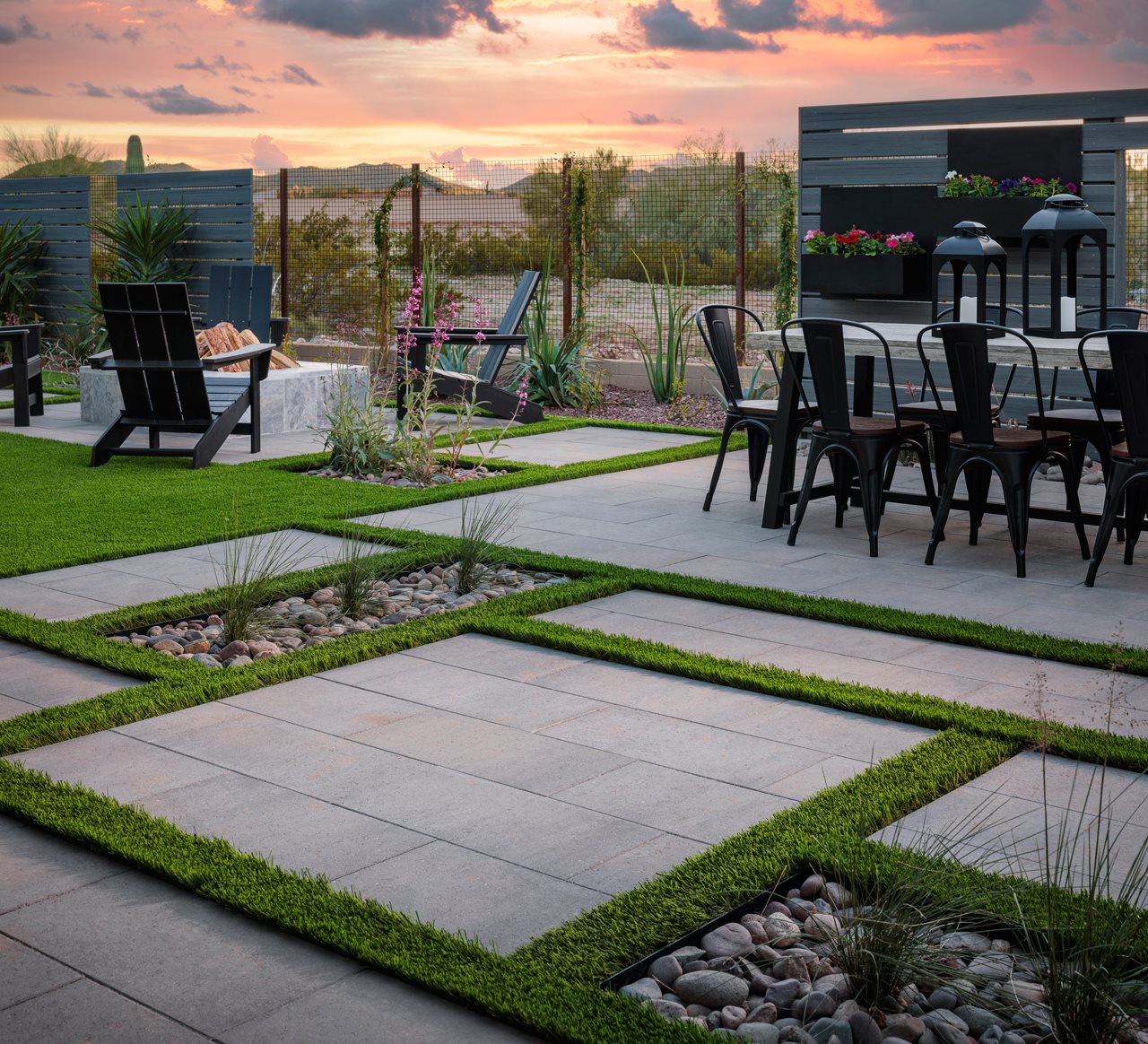 Hardscapes are a popular choice, as they include an array of options including interlocking pavers, permeable pavers and porcelain pavers. Concrete pavers come in a wide variety of styles, helping you find one to fit your home's aesthetic. Permeable pavers are installed with layers of varying-sized stone or aggregate that filter and direct storm water to underground aquifers, mimicking the way natural land absorbs water. Porcelain pavers create a contemporary outdoor look with significant functionality and durability. Each type offers different benefits, allowing you to select the right materials for your home, at different price points.
Add elements like wood, stone, metals, plants and fabrics in your design to create visual and textural interest.
5. Create an oasis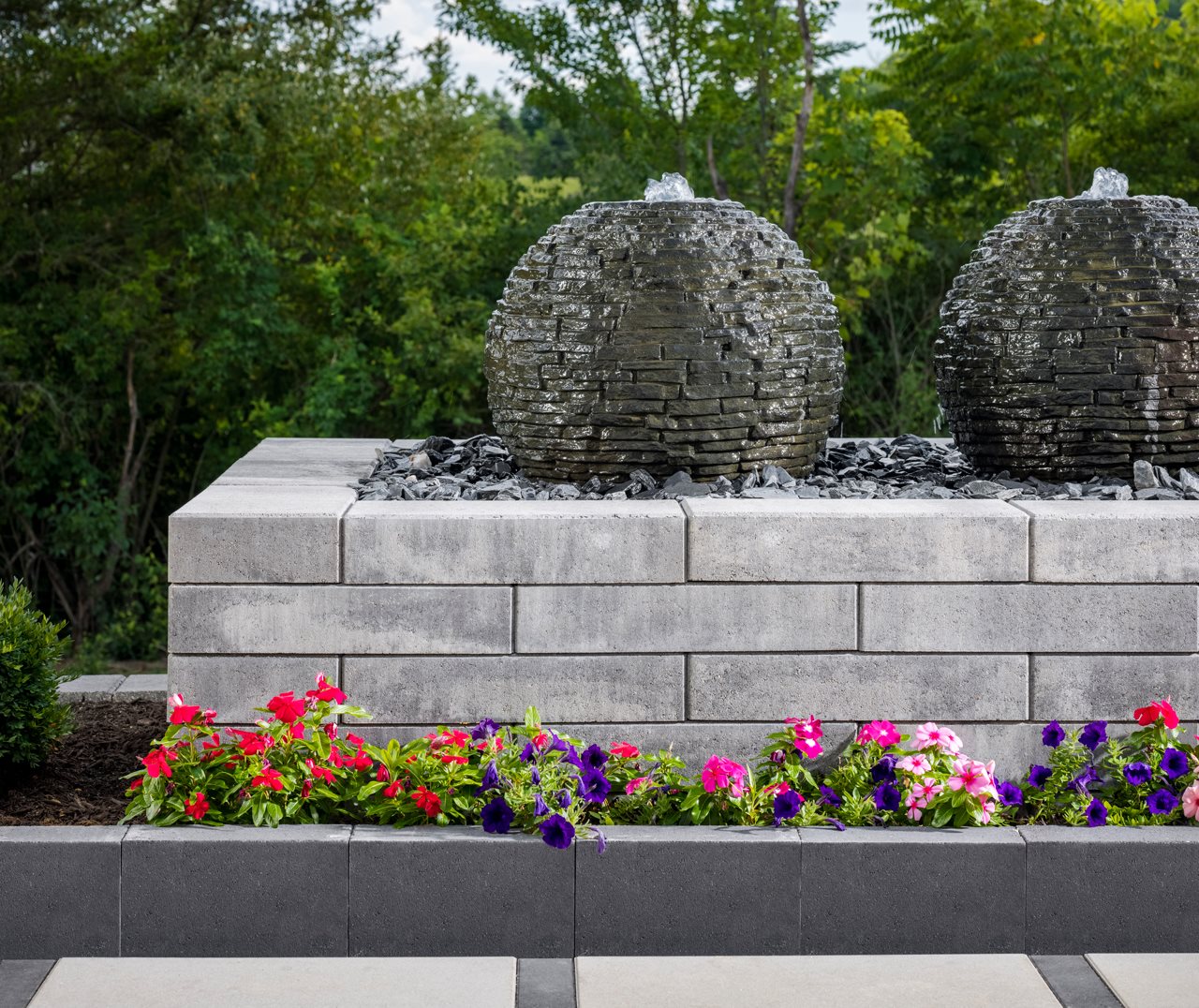 Stepping outside, you should feel you've entered a mini paradise. Privacy screens can divide spaces and create seclusion, whether made from wood, vinyl lattice, pre-made panels or fabric screen. Beyond visual privacy, try creating audio privacy, too. Any size water feature can soften background noise, from a fountain to a waterfall.
"Water features are a creative way to dampen sound from neighbors and create a cozy environment for conversations," adds Raboine. "Water sounds are also pleasing and create a relaxing experience."
Visualize the possibilities using technology
To pinpoint your vision, try Belgard Rooms augmented reality (AR) feature. Currently, 35 AR Rooms can be viewed on any device and "glued" into your outdoor space, allowing you to spin, move, scale and walk through templated outdoor rooms. This helps streamline the discovery and selection process for outdoor projects with contractors.
"Homeowners enjoy the interactive experience of pairing hardscaping products with their home's style," said Raboine. "This technology gets homeowners closer to seeing and trying out different outdoor living plans, simplifying the design process."
Visit Belgard.com to get started.