Contrary to a dominant theme on college campuses across the country, Young Women for America at Clemson students stand with Israel.
On Oct. 7, Israel was attacked by a U.S.-designated terrorist group known as Hamas. In recent remarks, President Biden stated, "October 7th, which was a sacred to — a sacred Jewish holiday, became the deadliest day for the Jewish people since the Holocaust."
At the heart of this conflict are questions of life and eternity. Innocent civilians deserve to be protected. Religious questions abound on all sides and perspectives of this issue. The disagreement, particularly on college campuses, lies in whether or not Israel is at fault in this war.
As one professor said to me recently, most people don't care what college students have to say about the Middle East. None of us are experts; few claim to be. Americans care about who is feeding information to college students about this issue.
Who are the university administrators, professors and student organizations promoting an anti-Israel and pro-Hamas narrative? Speaking for myself, a student organization called Young Women for America, or YWA, which holds the core issue of "Support for Israel," has profoundly impacted me.
YWA chapters across the country, including at Texas A&M, Georgia Tech, Baylor University, Liberty University and now Clemson University, are responding to this cultural moment at which we stand to express support for Israel. On Nov. 8, my YWA chapter at Clemson led a Stand with Israel Prayer Vigil at the Samuel J. Cadden Chapel on our campus.
I expected the event to be worthwhile. As a Christian, I believe prayer is the most powerful tool we have at our disposal. Jesus says in Matthew 18:20, "For where two or three are gathered together in my name, I am there among them." Even if two people had shown up to pray, our efforts would have been magnified.
What I didn't expect was how touched I would be by the Jewish and Israeli students at Clemson who attended the prayer vigil and spoke to me afterward. Other student organizations on our campus have overlooked their stories and perspectives. One student shared with me that there are Clemson students who are not only afraid to say they are pro-Israel at this time — they are afraid to say they're Jewish, period.
Hamas has been designated as a terrorist organization by the U.S. Department of State since 1997, well before most college students today were even born. As Hillary Clinton recently said, "People who are calling for a ceasefire now do not understand Hamas. That is not possible."
Yet, 48% of college students do not blame Hamas for the Oct. 7 attacks, according to recent polling from The Generation Lab.
In Daniel Hall at Clemson University, I have walked past a poster for weeks that describes Hamas as a "resistance organization." The poster reads, "(Hamas) decided to resist the occupation by firing at Israel. This was not unprovoked!"
YWA Clemson hung up a poster advertising our prayer vigil near the pro-Palestine poster. The next day, our poster was torn down, and in its place, a "protect trans kids" sticker was on the wall. It is known that Israel-based pharmaceutical companies, such as Teva, supply transgender-affirming drugs to the U.S.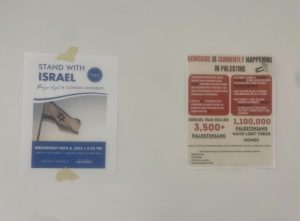 At other universities, pro-Palestinian student organizations (often associated with Students for Justice in Palestine) have described Hamas terrorists as "martyrs," while others hold signs reading "Zionism is Terrorism." Similar sentiments exist on Clemson's campus, albeit not as blatant or publicly demonstrated as of now. The vitriolic and violent tensions on college campuses surrounding the war in Israel have prompted the Biden administration to unveil a new plan aimed at ending antisemitism among college students.
I know firsthand just how alarmed and on alert university officials are regarding this issue. When I first asked the Clemson administration about hosting a prayer vigil for Israel, held peacefully inside our university chapel, they suggested we have at least two police officers on the premises. That quickly increased that number to four officers. By the day of our event, double that number of CUPD officers were checking bags before entry into the chapel, blocking entrances and exits to protect everyone's safety and closely monitoring any threats we might receive in advance of our vigil.
This level of security is not unique to pro-Israel, conservative or religious student events. Pro-Palestinian student organizations also work with CUPD to ensure safety comes first. Nevertheless, it was a jarring experience to realize how necessary security protocols were for me to host a prayer and worship service in an interfaith chapel on my public university campus.
YWA Clemson is proud to be a counterpoint to the widespread movement of college students expressing sympathy for an evil organization such as Hamas.
"I am talking directly to the families of Israeli hostages, and they are reporting back to the people of Israel what's happening here. So they will know that here at Clemson University, a group gathered and prayed and stood for them," Concerned Women for America CEO and President Penny Nance said to us at the close of our prayer vigil. "I just wanted you all to know that you're part of God's provision for them, for peace for them."
That is why, here at Clemson, we will continue to stand with Israel.
Emily Cope is a senior communication and political science major and the president of Clemson's chapter of Young Women for America.